Tripawds is a user-supported community. Thank you for your support!
As the clock ticked for Baggins, myself and literally hundreds of people started brainstorming to find a way to get this boy out of the shelter.
July 10, 2010
I wrote to All Ears Basset Sanctuary because I heard that they were transporting a dog from Albuquerque to Colorado Springs.
"Hello,

I saw your post about needing a pilot to transport a Chessie dog to ABQ. I am in CA and trying to rescue a tripawd dog from a shelter in Taos, NM. I thought maybe if you find a pilot interested, or could update your ad to combine two rescues, if they could pick up Baggins at ABQ and transport him to Colorado Springs (I have a Rescue Railroad driver will to take a leg from there heading west). Or possibly as far as Salt Lake (SLC) or anywhere in between. I can drive to Salt Lake to pick him up.


Please contact me if you find anyone willing. Thanks!

Dawn"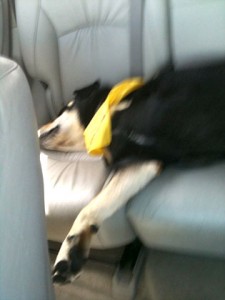 The next day, Chris Dowd replied, and said "We are putting together a run to Colorado Springs and your guy is more than welcome to come along. We just don't know exactly when it will happen."
Baggins had been at the shelter three months .Who knew how much longer they would hold him? Nobody had shown any interest in him, I guess because he's seen as "handicapped" by people.
I frantically tried to find him a way to get at least halfway to me in Auburn. Some people suggested I look into flying him here, but with it being the middle of July, it was too hot to ship him as cargo (many airlines won't fly animals if the temperature gets over 85 degrees). I considered a pet air cargo service, but it was expensive.
It was Meant to Be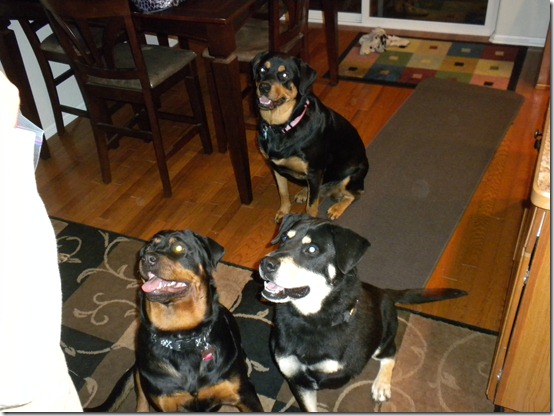 Quickly, as if the stars aligned, one by one volunteers appeared and offered to help.
First, Maria, a volunteer at the Stray Hearts Shelter where Baggins was located, offered to make the two hour trip to Santa Fe on Thursday, July 15. That day, Baggins left the shelter after getting a clean vet check, a microchip, and some x-rays for his future vet.
When Baggins arrived in Santa Fe, he was met by Dave Sarver of Basset Hound Rescue.  Dave was taking one dog to Raton and Baggins was hitching a ride.  In Raton, they met up with another Bassett Rescue driver Dean.  Dean drove Baggins and the other dog to Colorado Springs.
It took five hours to get him there, but late Thursday night, Baggins was greeted by Mary and Ted Malone, pawrents to Tripawd Nikki, another Rottie who is battling bone cancer. Mary and Ted fostered Baggins for the night, and said:
"Dawn…

Baggins is home with us!! He is SUCH a sweet boy!! You are getting a very special, sweet, kind, loving boy!!! He is very well mannered…he was very quiet and calm in the truck on the way home…just laid very nicely in the back seat (wish ours rode as nicely), and he is very much the gentleman around the girls!! We gave him some dinner…and he just played a bit with the girls and is now laying at my feet !! We took some pictures and Ted will be posting them to the tripawd site shortly!!

How exciting!


Mary Malone"
My heart soared when I read this!
I became even more excited when Mary told me:
"He has a tail…and he is so sweet and well mannered!! Amazing after hearing he spent 2 months at the shelter…you would never guess it!! He gets around VERY well on 3 legs…he has adapted great!! He flies up and down stairs…walks on the leash nicely…I mean…everything about him is wonderful!! He even knew when I was making him some dinner and was up on his 2 rear legs with his front paw on the kitchen counter watching me…wagging his tail!! He takes treats gently too!! if you did not have his picture I might try a switcher-roo with one of ours!! J like I said…you are getting an amazing gift of a boy….and he is getting an amazing mom in you!! You will have to send pictures and keep us all posted on the tripawds site!"
On Friday, July 16, Mary met Jim, co-founder of Tripawds, north of Fort Collins. Mary heroicially drove through Denver's morning rush hour commute to get him there by 10 am, so Jim could get Baggins to Salt Lake City by nightfall. After a seven hour drive, Jim and Baggins spent the night, where Baggins slept quietly in the motel room, not hungry but he also didn't appear nervous either.
Saturday July 20
Jim met my friend Jennifer Bunker in Salt Lake City to hand over Baggins for the next part of his journey. Jennifer is a dog rescuer and railroad volunteer I located through Facebook. That afternoon, Jennifer drove six hours from Salt Lake City to Winnemucca for Baggins' next ride.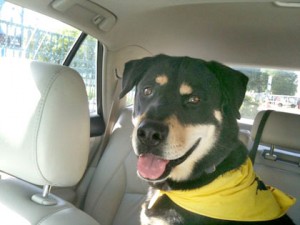 Saturday afternoon, Jennifer handed Baggins to Bulldogsworld Forum member Tamsen in Winnemucca. Three hours later Tamsen and I met in Reno, where I got to meet this loving, forgiving, sweet boy. As we both stood there, thrilled that this amazing journey had actually been pulled off, Baggins laid at our feet.
Suddenly, he jumped up and ran to a fence beside us to look at a white haired black man walking across the road.
Baggins chattered his mouth, like a cat when it sees a fly. We both about burst into tears. It was right out of Disney where the lost dog sees something familiar.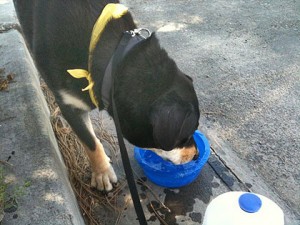 He stared at that man until he was out of sight, then laid down and went back to sleep.
Maybe that man resembled Baggins' previous human. I don't know. What I did know, right there, was that Baggins is a quiet, loving, happy boy despite the long hard road he traveled to be with me.