Tripawds is a user-supported community. Thank you for your support!
Miles was afraid of the livestock here when he arrived. Well, he had a showdown with the bull calf the other day and now has discovered his Inner Dog Powers. Here's the calf:

Miles was in the pasture and the calf came to play with him. He actually was so scared, he pooped himself, poor guy! I came running to save him from a headbutt from the calf's mother cow, who was also running for him. Then the heifer joined in the stampede and we were all running to the rescue; the cows to the calf, me to Miles. He was cornered and started barking aggressively out of fear and the calf stopped in his tracks and backed off. I got there and he hid behind me and I escorted him out of the pasture. Well, the next day, he now boldly goes up to the fence and barks at the cattle, all proud of himself and his new Tough Dog Status. He did fend off a bull and a couple cows after all!
He's also taken to thundering across the pasture to the road fenceline on garbage day to bark and chase the neighbors wheeling their garbage cans down the dirt road to the corner. This was Raven's favorite day of the week and it made my heart soar! Neighbors don't mind and they were happy to see a tripawd rottie back on the property doing his Guard Dog Thing.
Betty's vet thinks she's dealing with pneumonia, not congestive heart failure or hemangiosarcoma. 🙂 She is on lasix, which makes her drink more, but we don't want her fluid building up. She also has an inflamed throat and palate. Ice cubes solve them both! Soothing to her throat and keeps her from drinking too much. Miles is interested, but respects the Old Broad's space.
And this morning, Betty actually *allowed* him to share HER couch.
Looks familar…here she is with Raven in the past (look, she has two eyeballs:)):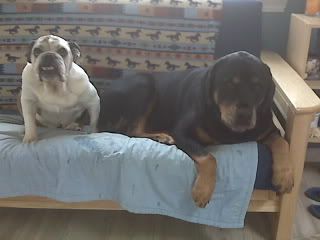 All is well on the farm. Thankful for one day at a time. 🙂