Tripawds is a user-supported community. Thank you for your support!
Miles' amitriptyline is working, or it's the fact that he's learning the routine here, or a combination of both. 🙂 For 3 weeks now, he goes next door to Mom's for day care when I leave for work. The 2nd week I would put in him the kennel with his favorite Yam with Chicken treat and mom's dog Cowgirl since they are now buddies. As soon as he'd lay down, usually only a few minutes, I'd let him back out. No big reunion festival, just sort of a non-event, good boy. Then the 3rd week, I would do that when I leave for work and then Mom would come and let him and Cowgirl out after I drive away. This is weaning him to the routine that I will leave him in there, but he doesn't have to stay in there long yet… No more digging or biting the chain link or panicking, here is where the drug has helped. I would never take the chance with leaving him in my house yet, but I am sure we can get there eventually. We are only using the drug for 6 weeks as a training tool. They say it makes them more "trainable" and then once the behavior of relaxing is learned, they don't need to be on it. Hoping!
Around the house, Miles is the perfect dog. He likes to sleep upside down.
He only gets on the bed sheepishly, I don't think he was allowed in his past life. But when he's there, he's in 7th heaven.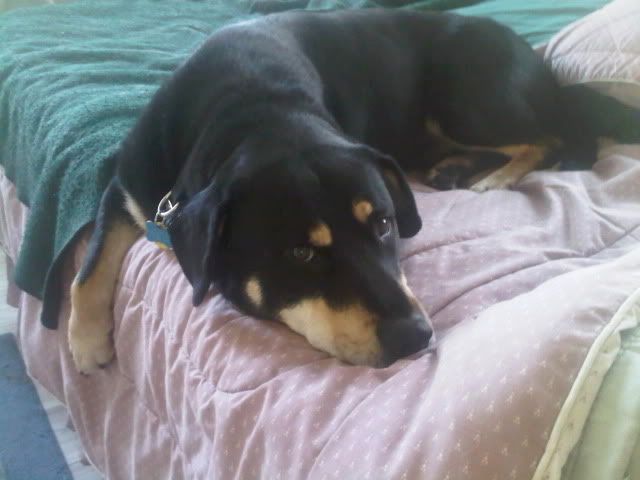 Betty is sharing HER couch with him now.
And he eats slower, so when she's done eating, she goes and licks his bowl right in front of him and he let's her. Betty had her xray followup for her pneumonia and she still has some fluid on her lungs, but is 80% recovered. She's a tough old broad. 🙂
Here they are, Miles always wagging, Betty pretty much always sleeping:
It was a nice summer day and Mom and I went to get ice cream. It was too hot to leave the dogs in the truck, so they got to come and wait outside the store while we ordered. They made friends with a ton of ice cream eating families. 🙂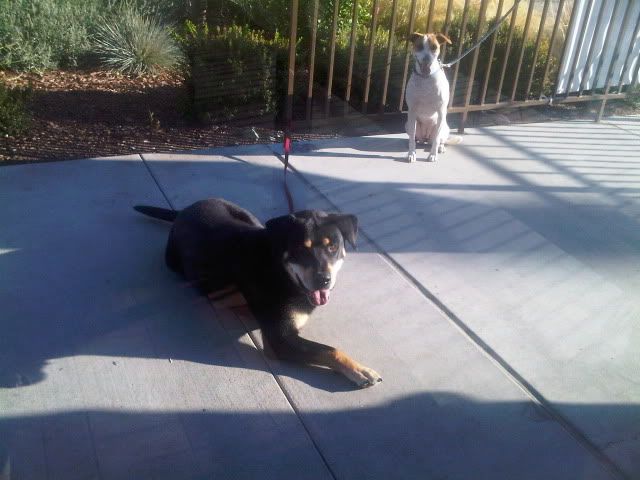 Another beautiful day!