Tripawds is a user-supported community. Thank you for your support!
All has been great with Miles and he was showing great progress with the separation anxiety. He is on amitriptyline during a training phase of 6 weeks. There's no way he's ready to stay in the house yet, I couldn't afford the damage. So, I've been training him to get comfy with the kennel, which has a chainlink top and concrete around the bottom. It's shady and large and in the yard.
I would take his favorite treat: Yam wrapped in chicken. Go into the kennel, get a yammy treat. Then I'd close the gate and leave him for 10 seconds, get a yammy treat. We worked up to going in there for a few hours when I'd run to town on errands and he seemed comfy with it, but I was putting Mom's dog Cowgirl, his little buddy, in with him.
Well, I guess I jumped the gun, the drug stopped working, or he just had a setback, but I left him in there for a few hours *without* Cowgirl a week ago and he was screaming like a little girl when I got back. 🙁 After that, I couldn't drag him to the kennel, not even for steak. It's not a Happy Place any longer. And to top it off, I think given time, he could actually chew his way out. Least case scenario, he'd bloody his face or break a tooth and go to the vet's.
On the side of the kennel:
In the gate: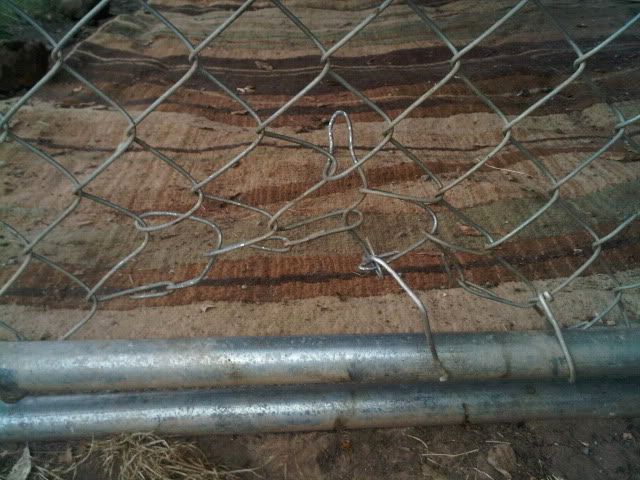 It's a substantial hole in the gate now:
I am at a loss! I am going back to Baby Steps. Using raw tritip chunks to lure him into the kennel, Yammy Treats aren't getting it anymore. And not leaving him, just getting him there, and we'll start all over and build from there. He'll need more amitriptyline, his 6 weeks are up.
My Mom lives next door and she's my daycare when I am gone. But it's wearing thin as she is sequestered if I am not home, not having any options for leaving him anywhere at all unattended without damage to property or himself. She's missed lunch dates and a meeting or two. I keep promising her that he will get better…
Miles, come on sweety, I will NOT leave you forever.