About
Tripawds is a user-supported community. Thank you for your support!
Picture yourself arriving in a new town, scared, tired and hungry with no food to eat and no comfy place to lay your weary bones. What if you didn't speak the language, and couldn't find the words to tell people you need help, how you got there, or even what your name is?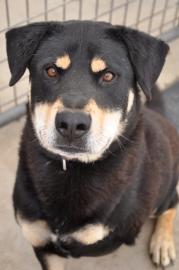 That's exactly what happened to Miles.
A Dog with No Name
In May 2010, a stout three legged dog mysteriously blew into Taos, New Mexico. Lonely and voiceless, he wandered the dusty streets, wondering why his humans weren't out looking for him.
Despite his missing leg and unrelenting hunger, this Rottie-Lab mix found the strength to keep searching for the very people who abandoned him.
Eventually, he met up with another castaway canine, and together they roamed the parched backroads and alleys of Taos, searching for food and respite. As the weather grew hotter, clean water and food became scarce, and the duo found it harder to find a cool place to spend their days.
Then one day, a human driving a truck stopped to talk to them.
"We're lucky dogs now!" they thought as their tails wildly wagged. Visions of a big bowl of food and water made their hearts soar as the stranger scooped each dog up and stowed them into little boxes inside the truck.
They weren't on the road long. The stranger took each dog out, and walked them inside a building. Some people came outside to pet the dogs and say "Hi!" Then, Miles and his buddy got a bath and ate their first real meals in weeks. Later, as Miles sat in his little room with the chain link fence, he was finally able to take a nice long nap.
Waiting, and Waiting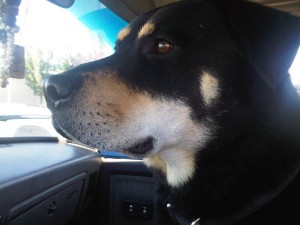 Months went by and although it wasn't a bad place, Miles was lonely. Although humans came to see him and feed him, they were always different, and nobody ever took him home with them. He wondered if he was being punished for something. "Am I in jail?" he wondered. "What did I do? How come nobody loves me?"
Then, one day, a woman named Beth saw Miles picture on the Petango pet rescue website.
Miles caught her eye because of his unique quality. He was a Tripawd, just like her dog, Tshuvah. Beth noticed he was in Taos, and saw that he had been at the shelter far too long. Worried that maybe he would never get adopted because he was different, Beth wanted to help, so she told everyone at Tripawds.com about this very patient, three legged dog.
It was just so sad. Somone cared enough to have his leg amputated, I wondered if they were missing him at all? Since nobody knew how he became a Tripawd, I called the shelter, and suggested they get in touch with area vets to see if they can find a record of a Rottie mix amputation in the last few years.
I found myself constantly thinking about this boy, until I couldn't stand it anymore, and started asking more about the dog the shelter had nicknamed "Baggins."
Is he good with cats? What's his temperament like?
When the shelter said he wasn't food aggressive, behaved well around other cats and dogs and loved to go for walks, I knew he was right for me.
The Cannonpaw Run Begins!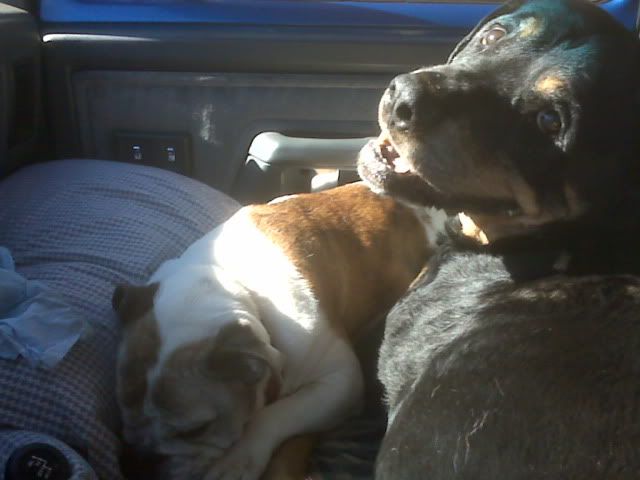 I have a special place in my heart for Tripawds. My beloved Rottie, Raven, was also a Tripawd, but because of bone cancer. I was heartbroken when he passed away in January 2010 after courageous battle.
Raven's sibling Betty and I had been lonely but getting along OK, but when this special Tripawd came along, something told we were all meant for eachother.
I said in the discussion forum I started about Miles:
"How sad is it that this boy overcame all that is involved with a leg amputation, only to end up being put down in a shelter?"
Suddenly, my heart took over, and I announced to the world,
"I want to do what I can! I need help through you all and crossposting to your other dog friends/forums to arrange a Rescue Railroad for him from Taos, NM, to Auburn, CA. . . I want to get this ball rolling."
And rolling it did.
The First Ever Tripawds Cannonpaw Run departed from Taos on Thursday, July 15, 2010, with one three legged Rottie named Baggins as the passenger.
Baggins' amazing journey continues here . . .